Home Sales, Foreclosures Both Up In March
LoanSafe.org reported late last week that both homes sales and foreclosures were up in March (2012) over the same period in 2011. Their numbers are based on transactions in Maryland and come from RealtyTrac, a nationally known company that tracks real estate trends nationwide. If the numbers reflect national trend – and that's what the story implied – they could point to a very healthy spring for the real estate market.
According to LoanSafe.org there were 69 foreclosures and 206 homes sales in Frederick County, Maryland last month. That's an 11% increase in foreclosures from March 2011 and 25% increase from February of this year. The fact that the pace of foreclosures is picking up has been attributed to the banks now coming to the end of the review process imposed on them by February's foreclosure settlement. With that review process concluding they are free to move forward with any foreclosures they deem legitimate.
"The mortgage companies are coming to the end of their review period brought on by the robosigning scandal which made them re-evaluate the foreclosure process to make it more deliberate and accurate," said Frederick real estate attorney Patrick McLister. "The banks are taking action against delinquent borrowers who are ineligible for short sale or loan modification."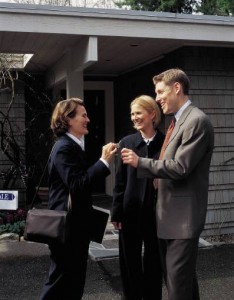 McLister went on to say that the primary reason behind the increase in home sales was the combination of low interest rates, a continued depression in property values, and a greater willingness among banks to approve short sales. In terms of the depressed property values Frederick County provides a snapshot by way of the median sale price in March. It was down nearly $8,000 per property to just under $261,000.
On the other side of the equation LoanSafe.org interviewed some real estate agents who claim they have frustrated buyers because there are enough properties on the market. They say if foreclosures continue to increase right along with short sales the combination of the two should alleviate some of the frustration. At the same time, more houses and reduced interest rates could work together to keep prices low.
A Wait and See Game
It's not uncommon to read reports like this one and notice varying differences of opinion among those interviewed. The best we can glean from this is the fact that no one really knows. Foreclosures on this scale are unprecedented in this country and, as a result, no one truly knows what were dealing with. We're now in classic "wait and see" mode as the faltering ship of the housing market tries to right itself. It will, without doubt; the only question is how long will it take?
It's probably good news that foreclosures are up. That means the banks are meeting their legal requirements and proceeding according to the settlement. Add to that the announcement by Bank of America last week that they would streamline the short sale process and we could finally see some real movement to get these vacant homes back in the market this year. The banks will undoubtedly lose quite a bit of money in these deals, but if everyone involved does what they're supposed to it could lay the foundation for a modest housing recovery within the next 3 to 5 years.
Here's hoping for their success.